Top 5 Tips for Interacting with Court Clerks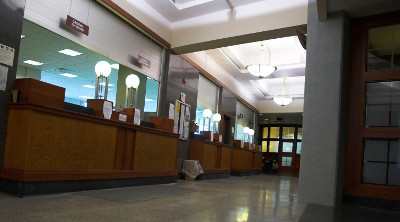 The physical act of filing for divorce can be daunting. Not only is it the first step in ending your marriage legally, but if you're filing for divorce without an attorney, you'll have to face the challenges at the court clerk's office on your own. While most of our customers don't report difficulties to us, over the years, DivorceWriter has received valuable feedback, both from our customers and from our own interactions with hundreds of court clerks across the county, and based on that feedback, we've outlined our top five tips for dealing with the court clerk's office without an attorney. Following them doesn't guarantee that your pro se divorce will be problem free, but they will go a long way in helping you avoid common pitfalls at the court clerk's office.
1. Limit your contact with the Court Clerk's office.
Non-attorneys have notoriously difficult times dealing with court clerks' offices. Among other things, clerks often use office-specific lingo that makes sense to them, but understandably makes no sense others, especially to a layperson. One of the best examples of this that I have experienced came after I made changes to a bankruptcy petition I had filed for a client. I contacted the bankruptcy court clerk to see what the status of the client's case was and the conversation went something like this:
Me: "I filed an amendment to a bankruptcy petition for my client and I'm calling to check on the status of the case."
Clerk: "Well, did you notice it out?"
Me: "Did I do what?" (After three years practicing bankruptcy law, I'd never heard this phrase.)
Clerk: (Sigh) "Did you notice it out?"
Me: "I don't know what that means."
Clerk: (Louder sigh) "I'm asking if you mailed a copy of the amended documents to every creditor?"
Finally...plain English! In her defense, I don't think the court clerk wanted to confuse me. Most likely, she was just using the familiar lingo that was part of their office culture. The problem is, especially when combined with legalese, that lingo can create a code that's nearly impossible for a layman to crack. In Texas, for example, the routine court hearing that's required before a divorce can be finalized is commonly referred to as a "prove up," often to the understandable confusion of many a Texas pro se divorce filer. Why not just call it a divorce hearing so that everyone understands? In short, the more contact you have with the court clerk, the more likely you are to be confused by their office lingo.
One way to minimize your contact with the court clerk is to mail in documents whenever possible, including the initial divorce documents. In many counties, as long as you have the exact filing fee in an acceptable payment method and a large enough self-addressed stamped envelope to accommodate the return of your copies to you, you can file for divorce by mail. If there's a problem, they'll generally either return your documents and filing fee to you or you will be notified by mail that there's a problem.
2. Know which questions to ask and how to ask them.
There are only a handful of basic procedural questions that you should ever ask the court clerk. Nationwide, you should be able to ask:
The filing fee for uncontested divorce (specify with or without children) and methods of payment accepted.
The location of the court clerk's office and office hours.
If you have minor children together, whether your county requires you and your spouse to attend a parenting class or seminar.
Note: If you know that your state/county generally requires a hearing to finalize the divorce, you may ask about scheduling the hearing, but this can be a dangerous question since many court clerks view it as legal advice.
Another reason why we suggest having as little contact with the court clerk as possible is that you want to minimize their opportunities to deliver blows to your confidence. For example, it isn't entirely uncommon for the court clerks to tell pro se filers that they aren't allowed to file for divorce without an attorney if they have minor children of the marriage or if they're using online divorce papers. However, it's almost never true and when we contact the very same court clerk's office, we hear something different. Why would that be? Because we know the right way to ask questions. First, never ask if you are allowed to file for divorce without an attorney. That's your right and it remains your right even if you and your spouse have minor children together and even if you use paperwork that you prepared yourself from an online source like DivorceWriter. Second, don't discuss the source of your paperwork with the court clerk. All they need to know is that you prepared it yourself, that you believe it is legally sufficient and would like to file it so that you can get it in front of the judge.
If your court clerk makes his or her e-mail address available online, you might try asking your procedural questions in that format rather than calling or going in. Of course, the same rules apply when using e-mail as with in person or telephone contact. In other words, only ask the three basic procedural questions listed above, and never include a detailed explanation of your particular circumstances as that will surely be viewed as you asking the court clerk to apply the law to your circumstances, which is the very definition of giving legal advice.
3. Be serious and confident.
As a pro se litigant, you want the court clerk to respect your right to self-representation, but that's part and parcel of being able to convey that you appreciate the seriousness of what you're undertaking. Additionally, adhering to tips 1 and 2 above has a lot to do with conveying confidence, and in particular, asking questions you shouldn't be asking shows your lack of confidence in your ability to represent yourself.
Divorce is an emotional time, and now you have to deal with the added stress of filing with a court clerk who may be less than pleasant. While I have talked to many court clerks' offices that were professional and more than helpful, unfortunately, dealing with the court clerk is a "hope for the best, expect the worst" situation. That being said, it isn't like you've never been treated poorly or unfairly by a boss or other person in authority before. You can handle it, but no matter what happens, don't ever be rude or become emotional with the court clerk.
4. Be organized.
Keep an orderly file or folder with a copy of each of the documents you have filed as well as the original and all copies of documents you have yet to file. Know which documents you have already filed, and know when it is time to file additional documents. If you don't currently use a calendar, start using one immediately. Know the date you filed for divorce and keep track of any other important dates or time limits. If you aren't usually an organized person, become one--at least when it comes to your divorce case. Not all attorneys are well-organized, but generally, somewhere in their offices is a paralegal or secretary who is. You'll have to be that person for yourself.
5. If something goes wrong, don't panic.
The most common snags in pro se divorce are:
A signature wasn't notarized when it should have been.
A document is missing a signature.
Documents were filed with blanks on them.
Documents were signed and/or filed too soon or too late.
Your DivorceWriter filing procedures provide step by step instructions for filing your divorce papers--start to finish. If you're notified that there's a problem with your paperwork, but aren't told what the problem is, review your filing procedures carefully along with your documents.
Filing an amended document is usually not a complicated matter. Generally, you should add "Amended" to the beginning of the title located on the first page of the document. Most DivorceWriter documents may be downloaded and self-customized in Microsoft Word format. Depending on the document being amended, it may be necessary to make changes to other documents to ensure that the change made to one doesn't result in inconsistencies in others. If the changes made to one document necessitate changes in other documents you've already filed, file amended versions of those documents as well. Remember to file the same number of copies of the amended document as you were required to file of the original document. Additionally, you must follow the same steps, if any, for service of the amended document on your spouse as you were required to do for the original version you filed.
More information on surviving the court clerk's office is available here.
See Also